August 10, 2018
Posted by:

Anjana Agarwal

Category:

Zoho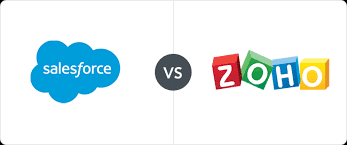 Are you looking for a CRM solution at the moment? Well, in case you are, then you must have come across many options out there in the market for a viable CRM platform. Among the many, Zoho CRM & Salesforce enjoy quite a fan following.
Both of them offer great services, however, if you ask us to pick one, then we'd definitely recommend SalesForce.
There are numerous factors that make SalesForce win the battle against Zoho and makes us pick the former.
Now before you look for all sort of reasons defining what makes Salesforce a superior solution, allow us to define why we picked Salesforce in the first place. So, if cost tends to be your most important decision criteria, then we recommend that you go with Zoho, as in that case, this would fit better for your firm. It involves much lesser cost as compared to Salesforce, however, need not mention that for the lower cost you would require to compromise on features as well.
There are no doubts that Salesforce comes around as the best as it comes to choosing a CRM tool and enjoys the best reputation in the market, despite the fact that it costs way more than Zoho. It's innovative, allows customization and offers endless benefits. The best thing about Salesforce is that you can simply take it and make it your own, so this way it totally mirrors your business requirements & processes, regardless of which aspect of your business Salesforce is being leveraged for.
There are numerous factors that make Salesforce a better option, like:
It is a lot easier to use as you scale your business

Zoho might be great for small business, but if the business is evolving at a rapid pace but Salesforce will serve your needs best.

With Salesforce you can start small & then go on to add-on to the platform, be it through customizations, configurations, or easy addition from millions of Salesforce-approved apps from their Salesforce AppExchange.
As we speak of Salesforce AppExchange, then it is definitely one factor that adds more value to Salesforce. Basically, this AppExchange is a huge shopping mall offering myriad options of tools which can be plugged and played into your Salesforce instance. It consists of more than 3,000 apps varying from Document, Productivity, Phone Integration, Marketing, & a lot more. Moreover, you can continuously add-on tools into the Salesforce instance and this will result in increased productivity of your team.
Another domain where Salesforce proves itself as better than Zoho is the force.com platform itself. You can leverage this platform to create entirely custom apps so to tie in with almost any domain of your enterprise. Salesforce Platform is great to build any kind of apps, be it custom mobile apps, calendaring apps, quoting apps and much more.
Not just, Salesforce provides best CRM in the market, but also has the best platform where you can create entirely custom apps for any other process you might need to be automated for your enterprise.
The above-mentioned are just a few integral reasons that make Salesforce better than Zoho, as there are many more. So, if you are confused about SalesForce & Zoho, then get in touch to receive the best advice over which would suit your business best.