Provide top notch customer service with Zoho Desk
 A platform that enables you to create more meaningful, personal and productive relationships with customers.
Your own context-aware help desk software by Zoho to help you focus better on your customers. It covers all the bases from increasing your productivity to the core of your customer service effort. Zoho Desk is designed to meet the demands of both small businesses and large companies. With Zoho Desk, companies can create knowledge bases that contain all the answers to commonly asked questions and issues related to their products and services.
Why should you choose?
Ticketing System
Call Center Software
Social Support Software
Increased Agent's Productivity
Company-wide Collaboration
Reporting and Insights
Help Desk Essentials
Knowledge Base and Forums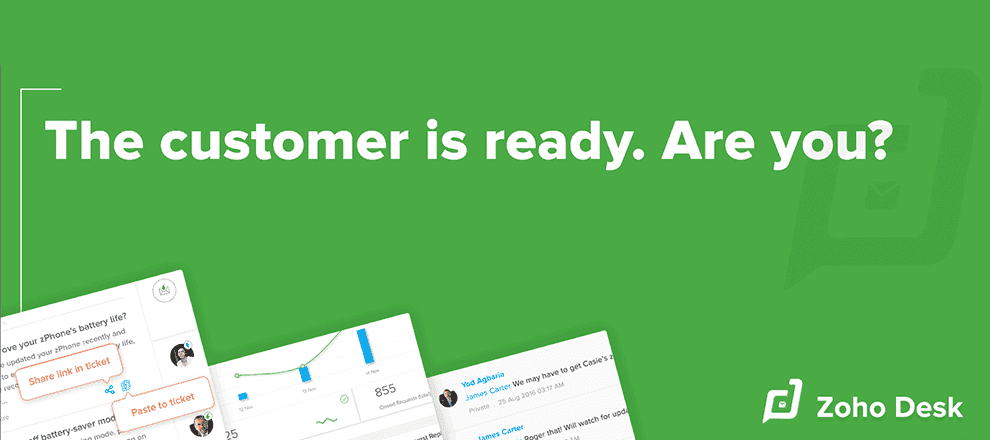 Features and Benefits
Help Customers Better
 No matter which channel customers use, all support queries are converted into tickets in one place. From this single dashboard, you can prioritize and assign the tickets. So close tickets and open happiness for your customers.
Make Better Decisions
With Zoho Desk's Customer Satisfaction Survey get customer feedback to measure your support performance . And also have a complete overview of your support with drill-down tools to get to the root. 
Comprehensive insights
Zoho Desk provides a complete overview of everything keeping track of all activities, choices, preferences etc. The centralized database which is hosted on cloud leads to more automated and streamlined process in business.
Multi-Channel Support
Zoho Desk provides multi-channel support and lets you connect with potential clients and leads on email, phone, chat, through social media. With the Zoho Desk app for iOS and Android, your agents can catch up, collaborate and provide top-notch customer support.
Integrate to new heights
Zoho Desk is a stand-alone customer service product by Zoho. But if you want extra then, it can be customized, the way you want it. You can integrate Zoho Desk with a range of business tools and third-party apps. It can also be easily integrated with Google apps.
Work as One Team
With Zoho Desk work better as a team, as it brings different departments together and with a unified workforce you can optimize your productivity at a much better level.  Moreover, identify the right trends and patterns in your team's efforts, make improvements, and inspire better performance.
Focus better on your Customers with Zoho Desk
What do our customers say?